The 2019 Dorchester Scarecrow Trail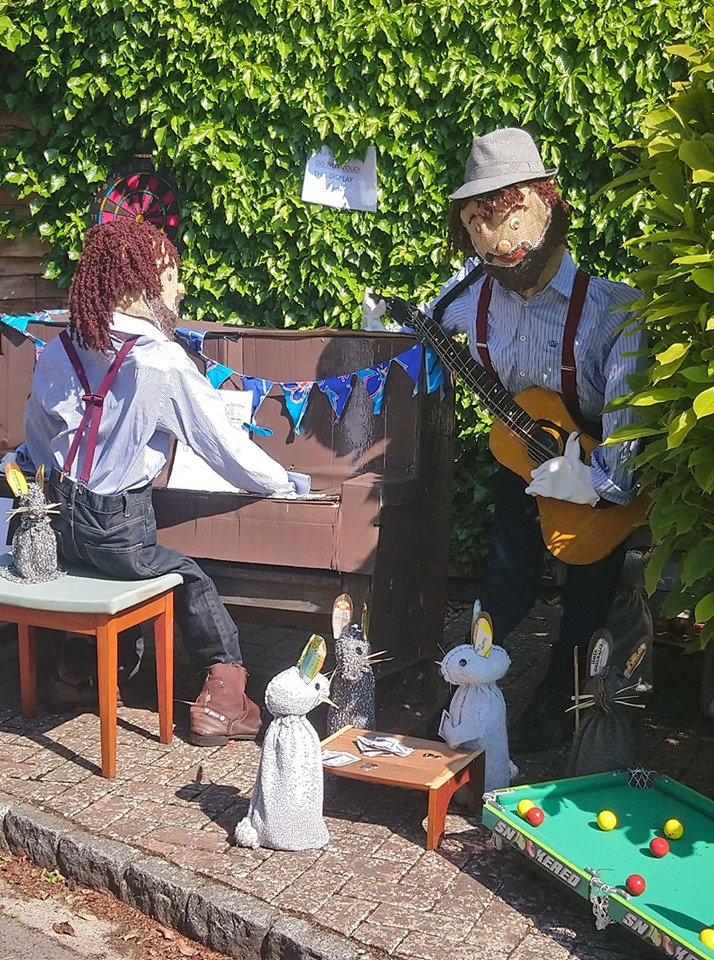 Our 2019 Dorchester Scarecrow Trail was a great success but Song Titles proved to be a much harder subject to guess.
30 scarecrows spread the length of the village and no one guessed all the scarecrows correctly!
Congratulations to the Dukes who guessed 28 of the 30 correctly and will be enjoying a free tea in Lily's tea Rooms for his efforts!
The Best Scarecrow vote went to Rabbit by the Line Family
A full set of answers is below
1.30 High St Defying Gravity ,from Wicked
2. Lilys Tea Room  baa baa black sheep
3 6 Beechcroft Rabbit, by Chas and Dave
4 8 Malthouse Lane Blackbird by the Beatles
5 2 Chequers Court A sailor went to sea
6. 15 Bridge End (Riverside) Lucy in the Sky with Diamonds
7. End of wittenham lane How much is that doggy in the window?
8. 21 Watling Lane Old Malt House Sultan of Swing
9. 17 Watling Lane Top of the World
10. 73 High Street Rocket Man
11. 72 High Street (The Old Forge) It's Raining Men
12 1 Abingdon Road Waltzing Matilda
13 2 Oxford Rd Killer Queen
14 4 Oxford Rd Baby Shark
15 14 Oxford Rd Castle on the Hill
16 6 Drayton Rd Firestarter
17 15 Page Furlong I am a Pirate King, from Pirates of Penzance
18 17 Page Furlong If only I had a brain from The Wizard of Oz
19 Dorchester Primary I'd like to teach the world to sing
20 Dorchester Pre-School Let it Go
21 6 Manor Farm Road Humpty Dumpty
22 10 Manor Farm Road Vicar in a Tutu
23 3 Manor Farm Road  Vicar in a Tutu
24 9 Monks Close Santa Baby
25 Meadside Paradise
26 The Thatched Cottage, High Street It's Raining Men
27 Rose Walk to the Abbey Rocket Man
28 Rose Walk to the Abbey You've got a Friend in Me
29 Rose Walk to the Abbey Dancing Queen
30 Inside Dorchester Abbey All things bright and beautiful