A fun family concert for all ages!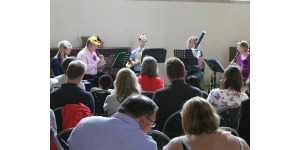 Would you like to take your children to a concert but you're worried in case they make a noise during the performance? Would you like to know more about wind instruments and ask the players questions? This is the concert for you!
Popular favourites from Frozen and Star Wars to  timeless classics such as The Teddy Bear's Picnic alongside interactive numbers, the Oxford-based quintet will present music to educate and entertain. Suitable for all ages.
Sunday 12th May 1pm
Tickets £7 adults/ £5 children (under 16)
Dorchester Abbey