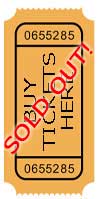 Sourdough, Flatbreads and the Orange Bakery story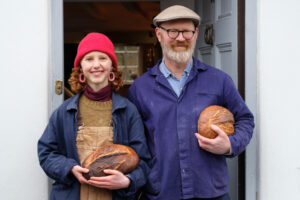 Kitty Tait (17) and her Dad Al (52) live in Watlington, Oxfordshire and between them run the Orange Bakery. From the most original flavoured sourdough (miso and sesame, fig and walnut) to huge piles of cinnamon buns and Marmite and cheese swirls the shop sells out every day and the queues stretch down the street.
Three years ago Kitty was at school and Al was a teacher  but when Kitty became so ill she couldn't leave the house the two discovered baking and in particular sourdough. What started as a loaf a day grew to two and then five and then a subscription service, a weekly pop up and finally a shop. Along the way Kitty got better, a Corgi got involved and Al realised he was a baker not a teacher. The story of their adventure Breadsong is out in April published by Bloomsbury.  Already available for pre-order from Amazon!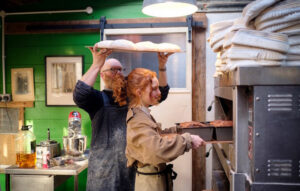 Come and hear this father and daughters amazing story and unpack the mysteries of making the perfect sourdough – beginning with how to keep that all elusive starter alive. Then they will show you how to make the most delicious flatbreads alongside moreish dips to dunk them in. They will then get knotting and show how they create their Babka twisted chocolate loaf.
Read more about Kitty and Al here
If you need disabled parking or access do contact us here with your requirements