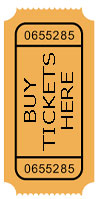 Tentertainment tickets £5 (adults free)
Rain or shine, roll up for fabulous tentertainment for all ages.  Lunch, tea and amazing cakes available from 12.30pm while children are entertained for the whole afternoon.  All their favourite parties rolled into one so turn up in fancy dress prepared to PARTY!
Duck decoration all afternoon in preparation for the duck race at 5pm.
Wild Boor Ideas Puppet Theatre 1pm
The Gingerbread man
Run run run as fast as you can, you can't catch me I'm the Gingerbread man!
Join Emma, baking and then chasing her biscuity friend. Who will catch him first?
Maybe the horse, maybe the cow or even the chicken!
This tasty interactive show is full of music, puppets and gentle clowning.
Come and make your own Gingerbread man hand puppet in a workshop that follows the show.
Kinecroft dance academy 2.30pm
Has your child ever thought about joining a dance class? Does your child love to dance around the house and make up their own moves? Then why not come and see what dance is all about with this KAD performance and workshop. This performance will showcase the skills and technique the students have learnt within their classes at KAD and the workshop will provide the opportunity for your child to come and have a go!
Dizzy Dean 3pm
This madly entertaining and fast moving mix of comedy, magic, hilarious puppets and cool balloon modeling will have you laughing your socks off!
If you need disabled parking or access do contact us here with your requirements.